OwnYourShop.com is a leading eCommerce enabler (ASP) targeting SME around the globe.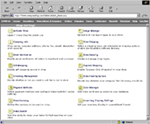 OwnYourShop.com brings you enterprise level eCommerce features like coupons and up-selling without the hassle of investment in expensive hardware, software and bandwidth. Your shop cost is purely based on the number of products you wish to make available on your Web site! Our low monthly rates make OwnYourShop.com the perfect eCommerce solution for your business.
OwnYourShop.com teamed up with WorldPay, we have created a comprehensive solution to sell your products online in 146 currencies and receive funds in one of 22 currencies. WorldPay has solutions for vendors of all sizes, inside or outside of the United States. Our successful eCommerce merchants were around the globe, such as USA, Hong Kong, Tokyo, Singapore, Paris, Australia...
The following is a list of features you get on OwnYourShop.com
Features: